BD Specialist Interview
1. Please introduce yourself briefly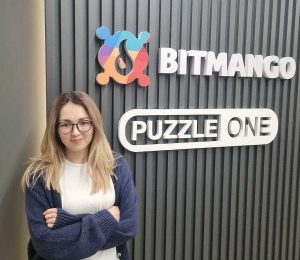 Zhanyl : My name is Zhanyl. I am from Kyrgyz Republic. It's one of the Post-Sovet Union countries. My journey of discovering Korean culture started 10 years ago when I started learning korean as my second major back home. I came here almost 5 years ago to get my Master Degree and couldn't even imagine that I would work here, especially in the game industry, but here I am.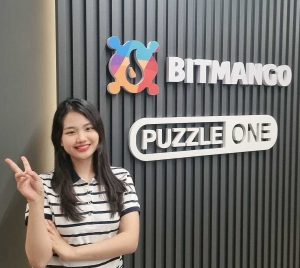 Jay Kim : Hello! I'm Jay Kim. I'm from Korea, but have lived abroad for nearly 10 years. It's been almost a year since I joined the company. I worked as a UA specialist for a short while, then moved to the BD team when it was created.
2. What does your team do and what kind of work do you do?
  Zhanyl :  Since it is a new team I don't think there is a line between the team members. We were building a BD team from scratch. There are two main directions which we work with: LiveOps and Publishing. Sangcheon, our latest addition to the team, is in charge of LiveOps,and me and Jay are responsible for the Publishing part.
  Jay Kim : CEO of humor. Just kidding, I wish. The goal of BD specialists is to get our apps through the soft launch criteria within Bitmango, and thereby succeed in global launch. I'm usually working with the Korean developers.
3. What's BD Team like?
  Zhanyl : Comfortable, I would say. Maybe because there are only 4 of us. Anyway, there is no tension between my manager and ICs.
  Jay Kim : I think our team is pretty tight, it being the smallest team. 
4. Can you tell us about BD team's daily routine? (IC)
  Zhanyl : Usually my day starts with a 'daily scrum' meeting where we discuss today's agenda, share some news related to the BD team's work and write down today's to do list in order to be more efficient. Then, everybody gets to work, pretty simple. During the day, we communicate through Slack, but if we need to discuss something quickly it's not so hard to set up a meeting since, once again, there are only 4 of us. 
  Jay Kim : First, our team shares our daily work schedule during Daily Scrum. Then I check my email and Slack channel for any updates from our partners. Then, I check the performance of the campaigns in progress, and see if there are any issues. To provide quality insights to developers, our team plays about 2 puzzle games each week.
Additionally, we have regular meetings with developers in which we share benchmarking data or internal research. We ultimately try to present a guide to make the app enjoyable for more people.
5. What are the roles and strengths of BD in game publishing?
  Zhanyl : Not so many people within the company know what we exactly do. BitMango has already taken a place in the game industry as a developer and publisher of its own apps. This time, BitMango is in the main role of helping external companies to publish and create hit games. Just imagine the first ice breaking meeting with developers and all the way up to Global launch! That whole process is our responsibility. Thus, discovering new developers is the main difference between BD and UA-Ads teams.
  Jay Kim : Both the BD team and the UA-Ads team are departments that utilize well-refined data. They are both one of the first departments to encounter data.
While the UA-Ads team is managing apps and operating with a goal of increasing profitability, our team is directly responsible for the initial survival of apps and sets the standard for saying which apps are good apps. So in addition to looking at the numerical data itself, our team also not only has to understand the overall trend of the game industry ecosystem, but also to be able to apply it.
6. When did you feel the most rewarded while working?
  Zhanyl : The most rewarding experience that I have had so far was the collaboration with Zeptolab. Maybe because it was the first project of its kind in BitMango or maybe due to the fact that it was my very first independent project. I felt a huge responsibility and fear that everything might go wrong. On the very day of the collaboration event, everything went according to the plan, and our expectations and hopes for this project were coming true. I think it would not be an exaggeration to say this moment was the most memorable for me. For some, this may not be too big an achievement, but for me it was a huge deal, the feeling that I was a "bridge" between two companies and pulled off.
  Jay Kim : I am always proud when developers actively apply our opinions. Looking at how the game is changing with my suggestions, I realize the beauty and power of project planning!
Recently, me and Zhanyl participated as talkers in "Mangoshare". We talked about the success factors of a popular puzzle game. I remember it as an opportunity to deliver our team's insight to other teams, and was proud when I got feedback from other teams that it was helpful.
7. What were some challenges?
  Zhanyl : I'm not quite certain whether I can representatively say for the whole team, but for myself, it would be a language barrier. One more thing that I am trying to fix is my way of expressing the thoughts and ideas in written form. Due to the difference of education systems between here and my country, I wasn't used to organizing things in written form the way Koreans do. I'd love to learn and in the process of investigating these aspects, and hope I will make up to the standards.
  Jay Kim : The scope of the business is really wide, but since we are a new team, we had to start from scratch in a lot of areas. I feel lost at times having to build a whole road map. Our team gathers on a frequent basis to set up the framework of our work scope.
8. What do you think are the core competencies required for the job?
  Zhanyl : Experience in this area wouldn't hurt but I believe passion is the main core. I know it may sound cliche, but the desire to learn new things and achieve particular goals are the most crucial.
  Jay Kim : The core competency is communication skills. Even with my manager's presence, I feel pressured when I have to lead the meeting with our partners. It wasn't easy for me, as a newcomer in the industry, to talk and make suggestions to developers who had been developing games for years. 
I think time management and project management skills are also key competencies because we need to manage multiple developers and projects at once. We have additional personal projects – mine is branding our company.
9. What are you doing to strengthen your job capabilities?
  Zhanyl : Absolutely everything in the BD team is related to the game knowledge. 
Thus, I am playing games!xD Never thought that having no interest in games will come up as  my weakness. Certainly, I am playing not for fun but more for research purposes. 
  Jay Kim : I collaborate a lot with developers, but it was hard in the beginning. It was hard to understand the jargon. I didn't understand any of the terms like api, apk, sdk, etc. To help solve the issue, I'm taking a basic programming class related to the matter.
I have even more UA workload than I did when I was in the UA team. To specialize in the area, I'm preparing for a SQL certificate.
10. What advice would you give to people preparing for the same job?
  Zhanyl : I don't think there are such things as requirements but maybe more like a preferable list. Since we do work with external partners and most of them are not Koreans, being able to speak English or some other foreign language will be a huge plus.
  Jay Kim :  I think interest in puzzle games is the most important thing. We do play a lot of games, and each of our insights are helpful to one another. Although not a required factor, our team is comprised of people who have all studied business management.
11. If you have a new employee on the team, who would you like to work with?
  Zhanyl : As I've already mentioned, there are no specific requirements as everybody can find their way to be in the BD team and be helpful in their own style. However, I would prefer to work with an open-minded person and help if necessary rather than with a person with a huge experience, but unsociable. 
  Jay Kim :   We'd like someone who's interested in the industry, someone who's active, someone who's a leader, and someone with a lot of ideas to share!
12. Why did you choose a game company and why did you choose Bitmango among various game companies?
  Zhanyl : Actually, it is such a funny story. BitMango was the only game company I applied to when I was looking for a job as I didn't aim to get into the game industry at all. I guess I just took my chances and it became a turnover of my life. Would I choose BitMango among various companies if I knew the game industry before? Yes, definitely yes. BitMango as a springboard is a huge opportunity, I believe.
   Jay Kim :  Bitmango was the perfect opportunity for me : I was in marketing, and I enjoyed playing puzzle/casual games. But most of all, it was a place I could improve my global capabilities. I thought it was a great opportunity to satisfy my hobby and improve my skills. Another attractive point is that it gives a big opportunity to new employees.
13. Tell me if you have any special know-how to join Bitmango.
  Zhanyl : Can't say for everyone, but if you are a foreigner, I highly advise you to learn korean! Speaking korean will definitely give the right impression of you and it's halfway to being selected.
  Jay Kim :  I'm the only one out of my colleagues who joined the company without data-related experience. Instead, I showed great interest in the company! I played all the 60 games that were released in the store at the time, and posted all the reviews on my personal blog. I think Bitmango liked my passion.
14. Tell me what you want to accomplish in Bitmango.
  Zhanyl : Since I talked a lot about language, let me briefly explain what I want to achieve here this way. When you are learning foreign language, there is a moment that I call "Second wind". It's a moment when you realize that you are thinking in that language, you can fully understand other people, you are not putting much effort in building a sentence, you feel confident. I would love to achieve this feeling while working at BitMango as a BD specialist.   
  Jay Kim :  My OKR has changed and therefore the scope of work has increased and the things that I can try has increased as well. I will continue to try various things and become an employee who contributes to Bitmango's sales. 
15. Which part of Bitmango's organization culture or in-house welfare are you particularly satisfied with?
  Zhanyl : I believe that work-life balance is the most important factor. It makes no difference to start the day at 8 or 9, but when you finish at 5 or 6, there is a tangible superiority. Before joining a Korean company, I've heard a lot about working overtime. However, there is no such a thing here, plus there is no dress code. (yay!) There are many social clubs where you can find like-minded people, support from the company if you move closer to work, huge support when applying for a visa and much more that give the feeling that the company truly cares about us. 
   Jay Kim :  Bitmango's welfare is very well organized. Besides the no working overtime policy everyone enjoys, the most satisfying welfare for me is the croffle machine. It tastes and smells so good. Also, at the time, croffles were really catching on in Korea. I thank the HR team for giving me a chance to follow the trend! Another organizational culture that I was satisfied with is the Mentor System. Mentors help newcomers adjust to the company. My mentor was Zhanyl, who was on another team. She helped me a lot, and we were able to build a good relationship, which led us to working in the same team!